What Sort of Reading Can You Expect From Me?
I am a Psychic Medium, Reiki Master with a deep love for tarot. I am clairsentient, clairaudient, clairvoyant and connect to passed over loved ones.
If you come to me for a reading I will always say to you let me read you without any information first to deliver the messages I am guided to give you.
I ask you to remember what I say as more often than not, what I say at the beginning of the reading answers the questions on your mind anyway. I work with your energy and spirit so we are always collaborating and the intention behind the reading is for clarity and to help you move forward through answers, messages or reassurance about your path.
We always need to keep an open mind about readings as we truly do not know what tomorrow brings.
My philosophy on tarot or readings is very simple. The tarot offers spiritual insight and assists with clarity in times where our thoughts maybe clouded or we are needing reassurance that our own intuition is correct.
The Tarot is a wonderful guidance tool that hones into the current energy/trends.
Through the rich symbolism and guidance of the cards insights are revealed to you, however we have at all times free will.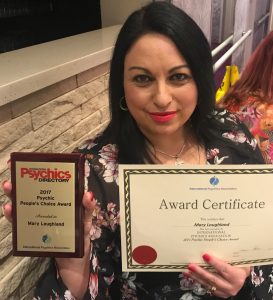 We are the creator of our our thoughts and actions and hence our destiny. Change your thoughts change your life. It is that simple.
The Tarot is able to assist you with making better choices and empowers you by guiding you to make choices which feel right.
I do not believe in sugar coating my answers but I will always deliver it with compassion and empathy.
The idea of a reading is to help you to give clarity and if that means delivering the truth then that's what will be delivered. However I will always try to be helpful and make you see that situations can be changed.
Winner:  2017 Psychic People's Choice Award
Thank you again for your beautiful and insightful reading today.  You have an outstanding gift.  I really appreciate the guidance you had to offer and for steering me on the right path.  I hope my grandparents are Keelung you company haha lol.  Many thanks again.
I just wanted to say WOW! I just had a 12 month reading done by Mary and I was gobsmacked with her accuracy.  I am looking forward to my year ahead.  I will be recommending people to you Mary.  Thank you so much for your time and energy.  I am one happy customer!  Much love to you.